Films Shown at Past Festivals
2011
2010
2009
Arwa Tower: Lightning Strike (50 minutes) - Switzerland
Directed by Stephan Siegrist
Stephan Siegrist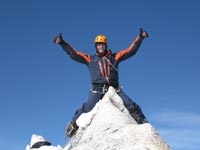 Join a team of cutting edge alpinists for the first ascent of the north face of the Arwa Tower (6,352m) in India. After 12 days of both free and artificial climbing they stand on the summit.
Samsara (23 minutes) - U.S.A.
Produced by Renan Ozturk
Directed by Renan Ozturk
Rock Monkey Media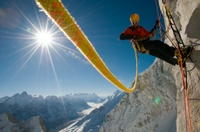 Conrad Anker, Jimmy Chin and Renan Ozturk travel to India's Garhwal Himalaya to attempt Mt. Meru, considered the 'center of the universe' in Hindu and Buddhist cosmology. The stunning symmetry and position of the steep east face has been a lure and lodgestone for climbers who have attempted it for the past 20 years.
"Samsara" the trailer from renan ozturk on Vimeo.
Drift (15 minutes) - USA
Produced by Jim Klug
Directed by Chris Patterson
Confluence Films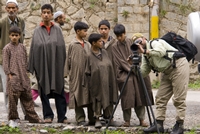 Drift takes us to the exotic rivers of Kashmir, India. This journey in the shadow of the Himalayas gives us a glimpse into the culture and people of this interesting land. Drift has brought the genre of flyfishing films to a new level.
Cerro Torre: A winter Attempt (48 minutes) - Switzerland
Produced by Thomas Ulrich
Directed by Christine Kopp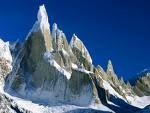 Four of Europe's top alpinists travel to Patagonia to attempt a winter ascent of Cerro Torre. Though they do not reach the summit they are still enthusiastic about their attempt and the beautiful environment of Patagonia.
Ride of the Mergansers (11 minutes) - USA
Produced by Steve Furman
Directed by Steve Furman
Furman Films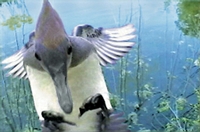 An eyewitness account of the first few days of the merganser's life as he jumps from his nest to the big wide world out there. Creatively photographed, an one-of-a-kind film.
Snow Many Possibilities (9 minutes) - U.S.A.
Produced by Trey Chace
Directed by Trey Chace
Ology Productions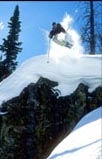 Exciting ski footage and a sobering look at the trials, tribulations and dangers of big mountain skiing. A look at big mountain skier Trevor Hiatt's near fatal accident and his thoughts and views on why it occurred.
Presence: Forty Days in Greenland (15 minutes) - Japan
Produced by Masaki Sekiguchi
Directed by Masaki Sekiguchi
Ebis Films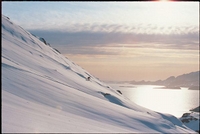 Doing away with all mechanical forms of transportation, this expedition from Japan loaded up their kayaks on the coast of Greenland and paddled in search of great lines to ski on the world's largest island. An inspiration to all backcountry travelers.
Qhapaq Nan: The Grand Route of the Incas (26 minutes) - France
Produced by Megan Son
Directed by Megan Son
Qhapaq Nan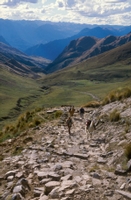 The Great Route of the Incas stretches the length of South America. Megan Son and Laurent Granier set out to walk the entire length from Colombia to Chile. This film chronicles the hardships, discoveries and joys of being on the road for over a year.We will be showing episode one of a four part series.
The Red Helmet (5 minutes) - USA
Produced by Tyler Young
Directed by Tyler Young
expedition films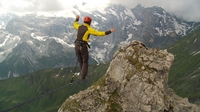 The Red Helmet tells the story of a young boy overcome by fear who runs off into the woods and finds a magic red helmet. Through his imagination, and the help of some very amazing adventure athletes, the young boy goes on dramatic journey kayaking, climbing, mountain biking, paragliding, slacklining, and base jumping. Slowly building courage, he is transformed, and returns to a lakeside dock to confront his fear of jumping into the water.
This Is Kashmir (15 minutes) - Australia
Produced by Jack McCowen
Directed by Jack McCowen
Adventure Project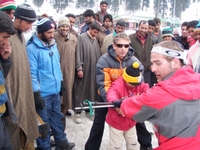 In 2009 the New Zealand Ski Club of Kashmir put the call out for ski and snowboard instructors to volunteer for a once in a lifetime opportunity; to travel to Gulmarg, India in the disputed region of Kashmir and teach local kids how to ski. Gulmarg, the location of the world's highest gondola, attracts adventure skiers from around the world to sample backcountry skiing on a Himalayan scale. Eight instructors from Australia, New Zealand, UK, Argentina, and France answered the call of the ski club and came to Gulmarg for 2 months of teaching and skiing. This is their story.
Revolution One (10 minutes) - USA
Produced by Dan Heaton
Directed by Dan Heaton
Dan Heaton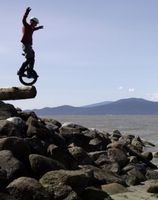 Dan Heaton, Kris holm and a group of extremely talented unicycle riders take to the woods, mountains and parks for this exciting look at off road unicycling. These riders will change your mind about what you thought was possible.
Poor Man's Helicopter (6 minutes) - U.S.A.
Produced by Darrell Miller
Directed by Darrell Miller
Storm Show Studios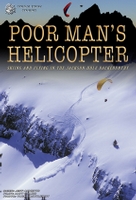 Have you grown tired of the same old helicopter angles in ski films? This was the inspiriation for "Poor Man's Helicopter". Filmmaker Darrell Miller and pilot Matt Combs of Jackson Hole Paragliding set out to do what had never been done in the world of ski films. Our approach to obtaining aerial footage was a simple concept, albeit a dangerous one: tandem paraglide over skiers as they drop into gnarly lines and exposed couloirs in the Jackson Hole backcountry. Local skiers Justus Meyer, Jeff Annetts, and Mike Tierney do what they do best on the mountain, while pilot Matt Combs and cameraman Darrell Miller fly in close to capture the action from a birds' eye view. Now that's environmentally friendly aerial footage, at an affordable price…
Signature's (15 minutes) - U.S.A.
Produced by Nick Waggoner
Directed by Nick Waggoner
Sweetgrass Productions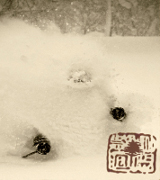 Signatures is one of the most beautiful ski films you will ever experience. Filmed on the island of Hokkaido in Japan where massive amounts of snow seem to be the norm . This film feature Alpine skiers, telemark skiers, snowboarders and noboarders. At the heart of this lovely tale of deep powder mystery: the seasons. In Japan there is a cultural connection to the different Signatures of our terrestrial home-- a sense that the rhythm of fall, winter, spring, summer influences the rhythm of the person, their energy, their style, and the lines they choose. Niseko local photographer Yoichi Watanabe explains, "As a photographer, the change in season brings a change of subject. I have to be ahead of this change in nature, like I have to be thinking about flowers before they actually bloom in order to capture what really goes on. I can say the same about the snow as well."
The Sharp End (22 minutes) - U.S.A.
Senderfilms.com
The Sharp End is an exciting climbing film which concentrates on the mental and physical demands of leading the hardest rock and alpine climbs. At times with little protection and at times with none. We will follow a group of Americans as they travel to eastern Germany and The Czech Republic where the climbing is crazy and dangerous.
2008
Crossing The Himalayas (50 minutes) - Ireland
Produced by Paul Murray
Directed by Paul Murray
Crossing The Line Films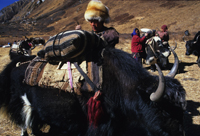 This film follows a family of Buddhist yak herders on a breathtaking journey across the roof of the world. Each year after wintering high on the Nepalese-Tibetan border, the Dolpo-pa load their yaks with salt and set off over some of the highest mountain passes in the world. After a grueling three-month journey across breathtaking but treacherous terrain, they reach the lowland valleys of Southern Nepal. Here they have just a few short weeks to sell their salt and load their beasts with grain before setting off once again for the high peaks of the Himalaya.
Ice Mines (29 minutes) - Canada
Directed by Will Gadd
Gravsports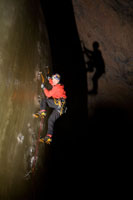 Ice climbing in dark cold mines!!!! Join Will Gadd, Canadian ice climber, as they explore abandoned mines in northern Sweden in search of new routes. One of the most innovative ideas for seeking out new adventures to come along in years.
Via Bearzi (33 minutes) - USA
Produced by Jeff Alzner
Directed by Mike Bearzi
K200 Productions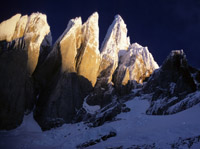 Mike Bearzi and his partner Bruce Miller teamed up for a two-man alpine style ascent of Gyachung Kang in Tibet. Mike Bearzi's dream was the perfect climb: two climbers, without support or fixed camps, attempting remote, difficult routes. They risk everything against the elements, relying on experience, each other and their luck.
K. L. Towers (3 minutes) - USA
Produced by Chris McNamara
Directed by Chris McNamara
Base Jumping Movies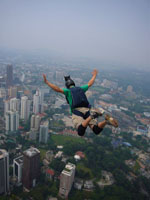 Chris McNamara is back with another great B.A.S.E. jumping film. Filmed in Malaysia's capitol city, Kuala Lumpur. This short film is packed with lots of energy and brings a smile to your face. The music could not be better matched.
Respect (17 minutes) - USA
Directed by Jason Winkler
Wink Inc Productions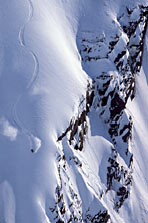 Skiers from around the world have one thing in common, respect for the power and force of big mountains. Eyewitness the dramatic change from beautiful powder runs to avalanche deathtraps.
Oil & Water (33 minutes) - U.S.A.
Produced by Nicholas Franczyk
Directed by Nicholas Franczyk
Oil & Water Project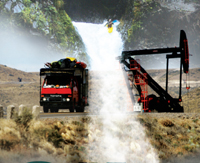 Join two adventurers from Montana as they drive their Bio-Diesel vehicle from Alaska to Tierra del Fuego. Along the way they kayak, surf and spread the word about the virtues of Bio Diesel energy. During the entire trip they do not use a drop of conventional fuel.
Destinations (17 minutes) - U.S.A
Produced by RA Beattie
Directed by RA Beattie
Fish with RA Beattie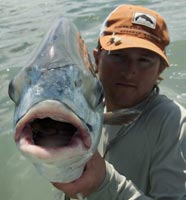 Join RA Beattie professional fly fishing guide and movie maker as he takes you to three of his favorite spots around the globe. Slovenia, Alaska and North Carolina offer some of the best fishing to be found. This is incredibly exciting for a fishing tale
Wings On Your Feet (50 minutes) - Switzerland
Produced by Fulvio Mariani
Directed by Fulvio Mariani
Iceberg Film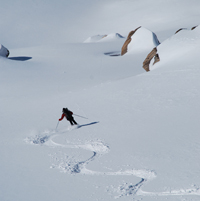 Fulvio Mariani & John Falkiner have dedicated their lives to Telemark Skiing in some of the most beautiful mountain ranges of the world. This chosen lifestyle takes them to Patagonia, Lebanon, the Dolomites and Kashmir
KingLines (20 minutes) - U.S.A.
Produced by Josh Lowell
Directed by Peter Mortimer
Sender Films
King Lines follows Chris Sharma on his search for the planet's greatest climbs.From South America fantasy boulders to to the sweeping limestone walls of Europe. Sharma finds and climbs the hardest and most spectacular routes.
End of the Affair (2 minutes) - U.K.
Produced by Simon D.Gee
Directed by Simon D. Gee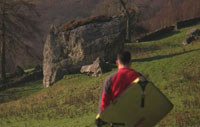 A great short comedy about the obsessiveness of bouldering. Perhaps the boulder has its own agenda too.
It's Fantastic! (18 minutes) - USA
Produced by Matt Sheridan
Directed by Matt Sheridan
Team Thirteen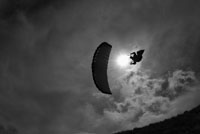 This exciting film introduces us to the new sport of speed flying. Get a parachute and a pair of skis and you are on your way.
Didier vs. The Cobra (25 minutes) - U.S.A.
Directed by Peter Mortimer
Sender Films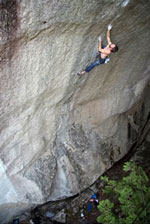 The Cobra Crack in British Columbia is considered one of the hardest climbs in the world. It has become Didier Berthods obsession. He lives and breathes the Cobra. Didier's dream is to complete the first ascent.
Seasons (20 minutes) - Canada
Produced by The Collective
Directed by The Collective
The collective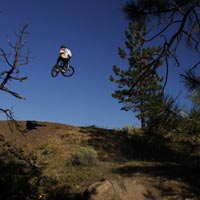 The world's top mountain bike riders show case their talents in this exciting film. We will be showing a 20 minute section of this 1 hour film.
Training Day (8 minutes) - Scotland
Produced by Claire MaCleod
Directed by Claire MaCleod
Rare Breed Productions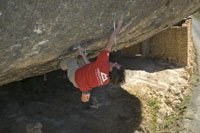 Hard rock climbing in sunny Spain prepares this climber to take on the hardest climbs on Scotland's highest peak, Ben Nevis.
Joy Ride (7 minutes) - U.S.A.
Directed by Dean Hamer
Boogy Boarder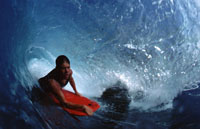 Travel to the Hawaiian Islands to watch boogy boarders and surfers catch some really big waves, and argue over which is a better sport, surfing or boogy boarding. Lots of fun packed into 7 minutes.
2007
Asiemut (56 minutes) - Canada
Produced by Melanie Carrier & Olivier Higgins
Asiemut Project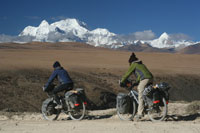 Oliver & Melanie both from Quebec, ride their mountain bikes from from Mongolia to Calcutta. Stunning photography and well matched music make this film a masterpiece in adventure film making.
Source to the Sea (36 minutes) - Nepal/Sweden
Produced by Ram Silwa & Pia Arridsson
Source to the Sea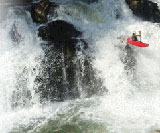 Ram Silwa is a professional expedition kayaker and instructor from Nepal. This expedition was his dream. Ram Silwa and Endra Rai paddled from high up in the Himalayas to the Bay of Bengal, a journey of around 1350 km, crossing three countries in 19 days.
Pacific Horizons (25 minutes) - Canada
Directed & Produced by Bryan Smith
Reel Water Productions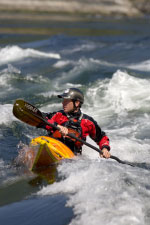 A six day paddling odyssey through the Pacific Northwest. Bryan and his team paddle and surf some of Vancouver Islands best tidal races and waves.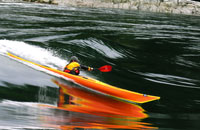 Patagonia:a travel to the end of the world (40 minutes) - Norway
Produced by Borge Ousland
Patagonia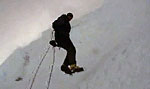 Borge Ousland & Thomas Ulrich overcome the seemingly impossible on this traverse of the Patagonian Icecap. Starting from a small village in Chile to cross the world's third largest ice cap they had to carry all their equipment and food supplies for the 54 day long expedition. Ousland, who is no stranger to adverse conditions has been to both the North & South Pole and climbed in the Himalayas. After seeing this film you can never justify complaining about a long day in the mountains again!!!!
Didier vs.The Cobra (25 minutes) - USA
Produced by Peter Mortimer
Sender Films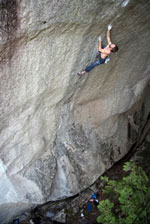 The Cobra Crack in British Columbia is considered one of the hardest climbs in the world. It has become Didier Berthods obsession. He lives and breathes the Cobra. Didier's dream is to complete the first ascent.
Learning To Fly (15 minutes) - U.S.A.
Produced by Chris McNamara & Lincoln Else
Base Jumping Movies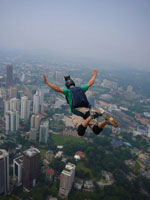 What does it take to become a B.A.S.E. jumper? You'll find out!! Follow the progression, excitement and danger of the process.
Titans of The Coral Sea (15 minutes) - USA
Produced by Jordan Plotsky
Titans of the Coral Sea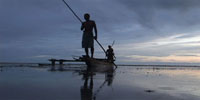 In the brilliant turquoise waters of Papua New Guinea, the Titan people have fished the same coral reefs for over 40,000 years. The emergence of the global marketplace is creating new economic pressures on both the people and the reefs. Now, for the first time ever, they are running out of fish. This film is about stewardship, and the hope of a community taking charge of their future.
Cayesh: The Calling (17 minutes) - Peru
Produced Directed by Steve House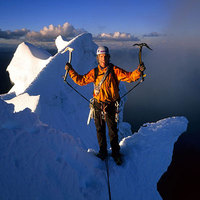 Steve House and Marko Prezelj climb a new route on the west face of Mount Cayash in a continuous 16 hour push. This beautiful peak is located in the Peruvian Andes. Steve and Marko are two of the worlds best and fastest alpinists on the scene.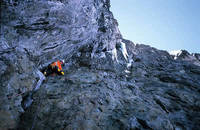 YES to the No (10.5 minutes) - U.S.A.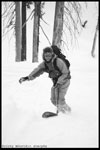 Produced by Rocky Mountain Sherpa Productions
www.rockymountainsherpas.com
Directed by Dave Mossop:
Original, funny and extremely entertaining. "No boarding is the same as Snowboarding BUT with no bindings" Noboarders shred steep lines, catch big air and board big mountain lines.
The history lesson in the beginning of the film is not to be missed.

Eiger Speed Riding (3 minutes) - France
Directed & Produced by Damien Dufresne
www.Acro-Base.com

How extreme can it get? Skiing off the eiger with a parapente on your back and a camera mounted on your helmet provides an incredible view of this quick way off of a mountain in the German Alps. An exhilarating film of what is possible in this day and age. You feel like you are there!!
Higher Ground Zion (10 minutes) USA
Higher Ground Ice Solo (5 minutes) USA
Director: Chris Alstrin & Alex Lavigne
Higher Ground Productions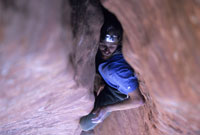 Zion:
Follow the spectacular achievement of Mike Anderson and Rob Pizem as they claim the first free ascent of .Thunderbird. VI 5.13a R one of the biggest free climbs in Zion National Park.
Ice Solo:
Featuring Guy Lacelle of Prince George, BC. soloing Colorado's notorious Ames Ice Hose. He is one of the smoothest ice climbers in the world. Guy differs from other leading ice climbers in that he climbs almost exclusively solo and in remote locations. Listen and watch as he shares his musings on Ames Ice Hose.
2006
Fatima's Hand (40 minutes) - Mali
This is just beyond everything I have ever experienced before.
-Karina Hollekim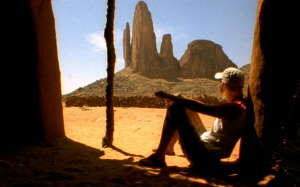 Directed by Jens Hoffman
Produced by
F24 Films
The 27-year-old Norwegian Karina Hollekim and her female friend are aiming to climb and jump off the summit of an impressive and mystical mountain in Mali (West Africa). This wouldn't be an extraordinary challenge under normal circumstances, but for the BASE jumpers this adventure in one of the world's poorest countries will change their lives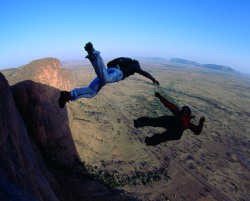 This 40-minute documentary describes Karina's adventures from her own perspective. Particularly striking, the sandstone mountain is called "The Hand of Fatima" by the Muslims because of its finger-like shape and their religious beliefs. Yet the magical power of this mountain is depicted most vividly in the stories and myths of the fetishist Dogon people.
In the shadow of the huge rocks, near the small village of Daari, the expedition's participnts will set up a camp and start preparing for the challenge. Fraught with major risks, the project will not be easy, given the temperature of over 40 degrees Celsius (104 degrees Fahrenheit) in the shade, the very difficult and challenging ascent, strong winds on the summit, and the psychological stress.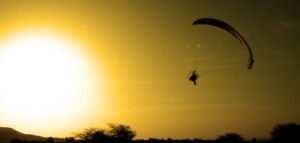 For the entire team, living in such close proximity to the people of Daari, a village without even the most basic of amenities, a well with fresh water, inspired them all to dedicate this film to the people of Daari. With that in mind, all proceeds made from this movie will go towards building a well in Daari. If you would like to donate towards this cause, you can do so online. The team will be going back themselves to do this- they do not want any of the money to be absorbed by other organizations in the way of 'operating costs'.
Pinturas Buldestre (21 minutes) - Spain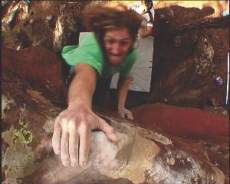 Produced/Directed by
Luc Percivel
Pinturas Buldestres takes us on tour to one of Spain's newest bouldering areas, Albarracin. Watch top climbers solve some of the hardest problems in the area. Director/Producer Luc Percivel is from Britain and currently living in France where he is working on climbing films and other projects.
Tangerine Dream (27 minutes) - Worldwide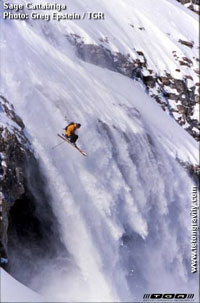 Produced by
Teton Gravity Research
The movie title was a celebration and appreciation for a rusty, orange truck that has accompanied four TGR producers in their ten year filming odyssey. Highlights include Utah's Pyramid Gap and some exciting BASE jumping skiing. Don't miss this film.
Time Lapse (10 minutes) - USA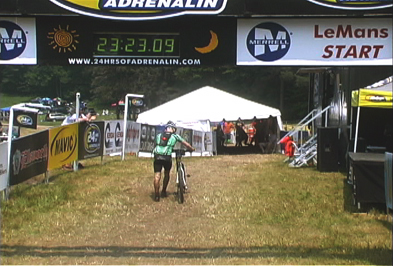 Directed and produced by
Jeff Udell
This film documents soloist Chris Gagnon's fight for the podium during a grueling 24 hour mountain bike race. It was shot on location in Dalton Massachusetts at Holiday Farm.
Weekend Warrior (5 minutes) - Canada
Directed and produced by Ace Mackay-Smith
"Weekend Warrior" is a short comedic film about the hapless pursuits of a male snowboarder who relentlessly tries to impress a local female with his physical prowess. This short does not use any "live" actors and was made in 72 hours from start to finish, winning the Filmmaker Showdown in Whistler in 2003.
Aoraki Ski Mountaineering (31 minutes) - Austria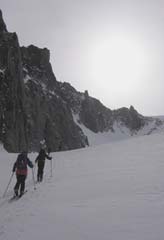 Directed by Gerald Salima
Produced by Planet Watch Film
Austrian Axel Naglich, Frenchman Baptiste Blanc and New Zealander Todd Winddle ski the south peak of Mt. Cook. This exciting first descent is not to be missed.
Solilochairlistquist (5 minutes) - USA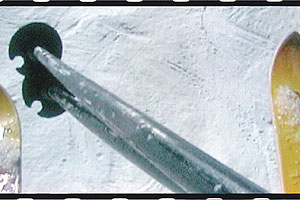 Directed and produced by T.M. Faversham
This comedy puts you inside the mind of the "ski-bum" who spends 100+ days a year in a chairlift.
Nomads (24 minutes) - Uganda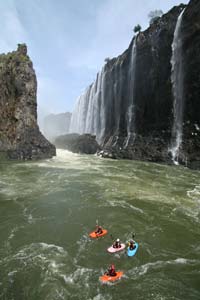 Directed and produced by Polly Green and Chris Emerick
Nomad kayakers, Whitney Londsdale, Jessie Stone, and Emily Jackson are adventurous women who have been drawn to the whitewater of the White Nile River in Uganda. They are friends connected by their love of the river and their compassion for helping others. They travelled to Africa to pursue their passion for kayaking and found a new way to give back to the village who housed them by building a sustainable youth and education center, medical clinic, and by refurbishing a school. Nomads looks into the lives of these women and the challenges they face. The proceeds from this film go to help these women continue their projects in Africa.
Hockey Night in Ladakh (8 minutes) - India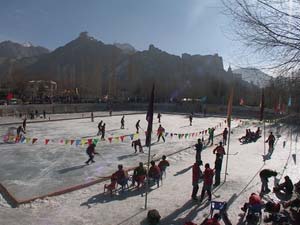 Produced by Pat & Baiba Morrow
A team of Canadian diplomats travel to Northern India to face off on the ice against a team of Ladakhi players at 11,000 feet above sea level.
Deep Water Solo (30 minutes ) - Malta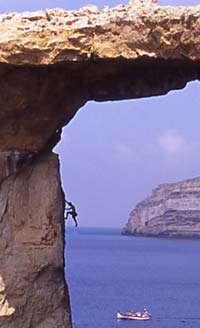 Produced and directed by
Matt Maddaloni
Climbing is finally freed, "free of ropes, bolts, and belayers," in this film shot on the beautiful island of Malta. Top climbers solo with no fear of falling, because they are free climbing over water and air alone.
2005
Alone Across Australia (52 minutes)
Accompanied by his Jack Russel terrier, Seraphine, Jon Muir sets out on a 128 day walk accross Australia. Jon encounters more challenges in a day than most of us will face in a lifetime. Thirst. hunger, loneliness and packs of wild dingos force Jon to call upon all of his personal resources to make this expedition a success.
This film will make you laugh, cry, and cringe.

Pororoca: Surfing the Amazon (26 minutes)
Directed by Bill Heath, Moving Adventures
The most exotic surf trip ever. World class surfers Ross Clarke-Jones and Carlos Burle travel to the Amazon to surf the largest tidal bore in the world.
"In the ocean, a good wave might last 30 seconds, but in the Pororoca, you can surf for several minutes, it's a dream come true"

- Carlos Burle

Red Alert (20 minutes)
Produced by Dominique Perret
Dominique Perret was named the skier of the century by the French press. In Red Alert, his latest film, he continues to thrill us with expert skiing, taking us to some of the most beautiful mountains in the world.

The Professionals
Directed by Movement Films
World Champion climbers Francois Legrand and Yuri Hirayama gave themselves a challenge: go to the US, visit all the hardest crag routes; all within a seven week time limit. Join two of the most successful climbers in history on a road trip full of success, failure, and reality of life.

Soul Purpose (21 Minutes)
Filled with beautiful /static/media/images, exotic locations and extreme skiing, Teton Gravity Research puts it all together with Soul Purpose, bringing together extreme skiing and B.A.S.E. jumping in this 21 minute trailer.

Paddleing The Mighty Rivers Of Africa (15 Minutes)
A unique look at whitewater kayaking in Africa. From the White Nile to the Zambezie River, big whitewater, Victoria Falls, man-eating crocodiles and moody hippos, all combine to produce a fresh look at paddling in a far-away land.

A Russian Wave
Drirected by Becky Bristown
Invited by the Russian government, two expedition whitewater kayakers, Becky Bristow and Dunbar Hardy, go in search of new whitewater in the northeastern reaches of the Russian continent. When the helicopter lifts off over the Russian tundra, they have no idea what they're really in for! This is a humerous, spirited and touching film that takes us on an adventurous journey into the Russian culture.
2004
Berserk in the Antarctic
Beyond Gravity
Neverending Thermals
The One
Out of Ophrica
Sacred Wave
Timeless
Urban Ape
2003
In The Shadow of The Condor
Tsunami Rangers: Greatest Hits
The Making of Extreme: Skiing
White Trax
Into The Thunder Dragon
2002
The Spirit of Snow
The Making of Extreme: Ice Climbing
Fat Tire Fury
The Nose
Over The Bars
Denali
Guest Speaker: Mark Synott
2001
Mind The Addiction
Dirt Divas
Nurpu
Unizaba